Architectural Information
CAD Details for the many different applications of our pathway material for landscape architects can be found here.
Organic-Lock™ is the strongest organic glue on the market and is made from 100% naturally occurring materials. The patented formula is the result of more than 10 years of Green Science with more than 6 different PhD's involved in the research. On top of our pathway material for landscape architects its ability to resist erosion, Organic-Lock™'s ultimate flexibility through its self-healing properties makes it an incredibly unique and high functioning product. Organic-Lock™ is designed to be combined with crushed aggregate screenings to create a stabilized surface that resists erosion and reduces maintenance while maintaining a natural look and feel. Why spoil nature with an asphalt pathway when you can have a pathway that looks and feels like natural aggregate, except with better performance!
Important features of a surface stabilized with Organic-Lock™ include:
Erosion Control
Organic-Lock stabilized surfaces offer significantly improved resistance to erosion over unstabilized surfaces. When activated by water, Organic-Lock forms an adhesive gel which bonds sand particles together. In addition, this gel creates a thin film on the surface of the joint when wet. This film acts as a buffer zone which water can slide over, preventing washouts. Organic-Lock is particularly effective on sloped surfaces as these areas are the most prone to washout and rutting due to fast moving water.
Reduces Dust
Organic-Lock™ is a natural binder that swells into a gel when it is in contact with water. This pathway material for landscape architects creates a gel and grips onto particles of stone and dust and locks them in place when dry. This helps prevent dust from blowing away by the wind, as well as being kicked up by traffic.
Weed Deterrence
Envirobond has scientifically elevated the pH of Organic-Lock™ which creates an unfavorable environment for seeds to germinate, resulting in deterred weed growth.
Self-Healing
Organic-Lock™ stabilized surfaces remain completely flexible to withstand thermal movement or settlement of the sub base materials. Additionally, the gelling ability of Organic-Lock™ allows the surface to self-heal. In conditions where cracking or movement may occur, rain water reactivates the Organic-Lock™, allowing the surface to fill any cracks. Chemical alternative products use a chemical reaction to firm up. When this bond is broken, it stays broken!
Simple Surface Maintenance
The self-healing ability of Organic-Lock means that any maintenance that is required to the surface or below the surface is simple! Material can be shifted and reused by reactivating the Organic-Lock with water and re-compacting.
Larger particles of the aggregate are designed to loosen on the surface over time, to achieve a look and feel that will fit into any natural surrounding.
Edging options vary depending on aesthetic appeal and structural requirements. Some options are listed below:
Concrete
Natural Grasses
Pavers
Turf
Wood Chips
Manual Spreading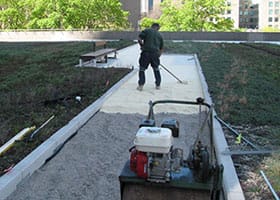 Mechanical Spreading
Machine Spreading
Interested in Becoming a Dealer?
We are always looking for high quality partners to increase the distribution reach of our products. If you are interested in becoming a dealer of Organic-Lock, please send an email to us at:
[email protected]
. Our team will provide you with an onboarding package and an applicant information form to get the process started.
Dealer Locations
To find the dealer that is best suited to your needs, please contact us here:
We are constantly expanding out dealer network, to discuss the dealer that is best suited to you please get in contact with us here: