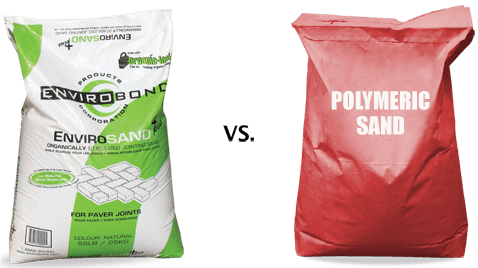 The fast solution to paving stone materials is to keep it together with polymeric sand. However, there are often issues which relate to the use of this formula. Understanding how polymeric sand vs. regular sand for pavers can alter the life line of your pathway helps you to make the smartest decision for your hardscape project.
Taking Chemicals Out of Your Hardscape
The disadvantage of polymeric sand is with the mixture that is used. When looking at polymeric sand vs. regular sand for pavers, you will find a big difference in the ingredients. Polymeric sand is constructed of chemicals for the paving stones. You will find poly haze and other chemicals that cause damage to your pathway. Regular sand, or organic solutions, stop the harm to the environment that is created from polymeric sand.
Lowering Your Pathway Maintenance
The decision to use polymeric sand vs. regular sand for pavers also differs based on the maintenance over time. You will find that the chemical construct of polymeric sand deteriorates quickly. If there is a large amount of rainfall or other weather, then you will need to change or maintain your pathway. Unfortunately, the chemicals will lead to completely re-doing your pathway almost every year. Organic solutions, such as Envirobond, are water permeable with paving stones. More important, they can easily be replaced without re-doing the pathway.
Stop Weeds From Growing
The option of using polymeric sand vs. regular sand for pavers is further defined by the type of maintenance you will be involved in. Without water permeability, you will have to look at deterioration of the paving stones. For most hardscapes, this means that weeds will begin to grow and you will have difficulty with keeping your paving stones looking like new. You can stop these issues from occurring by using organic solutions that work with nature and don't deteriorate.
If you are looking at decisions for your hardscape project, then you want to know what materials work best. Polymeric sand vs. regular sand for pavers offers better solutions for the home. By choosing the right option, you will find that you can enjoy lower maintenance and a long lasting pathway.
Envirobond is now available for the DIY pathway at Canada's Home Depot!