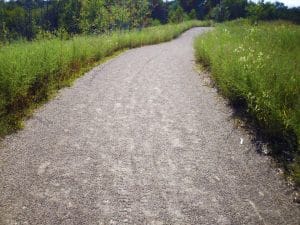 Many DIYers think that polymeric sand is the only option available to use with many hardscape projects. However, there are issues which arise from the use of this sand. Finding alternatives to polymeric sand can help you to change the look of your pathway.
Polymeric sand leaves behind residue that causes a white haze on paving stones The chemicals are also known to crack easily which leads to them washing away over a short period of time. To avoid this you'll need to find a different option.
There are various alternatives to polymeric sand available. Looking for organic sand or materials for paving stones is one option. With organic materials, you will avoid having the white haze form on your pathway.
When looking for alternatives to polymeric sand, you will also want to find high quality materials. There are other products, such as EnviroSAND, EnviroSTONE and EnviroPATH on the market that are able to stop water erosion from occurring. With a different type of sand and formula, you will easily be able to reverse this cycle and reduce the amount maintenance you'll need to do over time.
Our alterntives to polymeric sand are also designed with formulas that are more compatible with the type pathway you are creating. Different mixtures will create long lasting and natural results for your hardscaping projects. You will find that our products are able to provide durability and long lasting solutions with less use of chemicals.
If you are looking for solutions for a hardscape project, then you also want to look at available materials. Alternatives to polymeric sand provide you with different solutions for the pathway you are creating. Using our products allows you to enjoy a 100% organic landscape with high quality results for your next project.